Why You Need to Be Consuming More Turmeric if You Have Hashimoto's
Dec 14, 2021
Turmeric has been around the wellness space for a while and for good reason, it is an anti-inflammatory and antioxidant all star.
Turmeric is a spice in the ginger family and contains a powerful compound called curcumin. Not only does turmeric and curcumin help to lower inflammation, they also help symptoms of depression and arthritis. They can also help improve heart health and prevent Alzheimer's and cancer.
One of the biggest issues my clients and many people with Hashimoto's face is inflammation in the body. For me it showed up as a puffy face, stubborn weight gain and an overall very heavy feeling. In order to fully heal the body and lose the stubborn Hashis weight, we must address inflammation first.
One of the best ways to reduce inflammation is to consume anti-inflammatory foods, enter turmeric. This versatile spice can be used in a variety of recipes. My favorite way to consume it is in a golden latte, or turmeric latte - a little oat milk, turmeric and raw honey - and you have the perfect cup of warm comfort on a chilly day.
Here is a list of recipe ideas to help you get more turmeric into your diet - which one will you try first?
Instant Pot Golden Milk Quinoa Porridge
For Breakfast
Prep Time: 5 mins. Cook Time:15 mins
Ingredients
2 cups organic white quinoa rinsed

2 cups unsweetened coconut milk beverage

1 teaspoon vanilla extract

1 teaspoon ground turmeric

1 teaspoon ground cinnamon

½ teaspoon ground ginger

⅛ teaspoon ground black pepper

⅛ teaspoon salt

½ cup canned pears with juice, diced

½ cup golden raisins

¼ cup unsweetened coconut flakes
Instructions
In the Instant Pot
In the Instant Pot, combine the washed quinoa and coconut milk. Whisk together well.

Set to high pressure and cook for 1 minute. Allow to stand for 10 minutes on natural pressure relief.

Carefully remove the lid and stir in the vanilla, turmeric, cinnamon, ginger, black pepper, and salt.

Top with pears, raisins, and coconut flakes as desired.
On the Stove Top
Rinse the quinoa under cold water.

Combine the quinoa and coconut milk in a medium sauce pan and place over medium heat.

Bring to a boil, then reduce the heat to simmer and cover with a tight fitting lid. Cook 10-15 minutes until most of the liquid is absorbed.

Remove from the heat and stir in the rest of the ingredients: vanilla, turmeric, cinnamon, ginger, black pepper, and salt.

Top with pears, raisins, and coconut flakes as desired.
*Note - if your porridge feels too thick, add more coconut milk until you reach your desired consistency.
*If you're new to cooking with Turmeric, consider using a ½ teaspoon to get started.
Golden Turmeric Energy Balls
For Snacks
Ingredients
1 cup almonds raw

1 cup walnuts raw

1/2 cup dried cranberries

1 cup shredded coconut

1 tbsp turmeric powder

1/8 tsp salt

1/8 tsp black pepper

5 dates medjool
Instructions
Begin by putting the nuts in a blender or a food processor and blitzing them to little pieces. They don't need to become too powdery as the thicker texture is nice for your energy balls.

Next, add the rest of the ingredients and blend again to combine well. Make sure the dates and cranberries are well incorporated into the mixture.*

With a spoon, scoop out a bit of the mixture and try rolling it in a ball. If it sticks, great - if the ball falls apart easily, you might need to add an extra Medjool date and blend again. Alternatively, you could add 1 tBsp coconut oil.

When the mixture is sticky enough, roll it into balls. Feel free to use gloves so that your hands don't stain- because turmeric WILL stain everything.

These energy balls can then be stored in an airtight container in the fridge for 5 days or frozen for up to six months.
Anti-Inflammatory Ginger & Turmeric Carrot Soup
For Lunch
Prep Time- 10 minutes Cook Time- 40 minutes
Ingredients
1 tablespoon olive oil

1 leek , cleaned and sliced

1 cup chopped fennel (1 small head)

3 cups chopped carrots

1 cup chopped butternut squash (or more carrots)

2 garlic cloves , minced

1 tablespoon grated ginger (about 2" piece)

1 tablespoon turmeric powder

Salt & pepper to taste

3 cups low sodium vegetable broth

1 (14.5 oz) can lite coconut milk
Instructions
Heat the olive oil in a large dutch oven or saucepan. Add the fennel, leeks, carrots, and squash. Saute for 3 - 5 minutes until the veggies start to soften. Add the garlic, ginger, turmeric, salt, and pepper, and saute for a few more minutes.

Add the broth and coconut milk. Bring the mixture to a boil, cover and simmer for 20 minutes.

Once the soup is cooked, add it to a blender and blend until creamy. You could also use an immersion blender. Taste and adjust seasonings to your taste.

Serve immediately with a dollop of coconut yogurt and enjoy!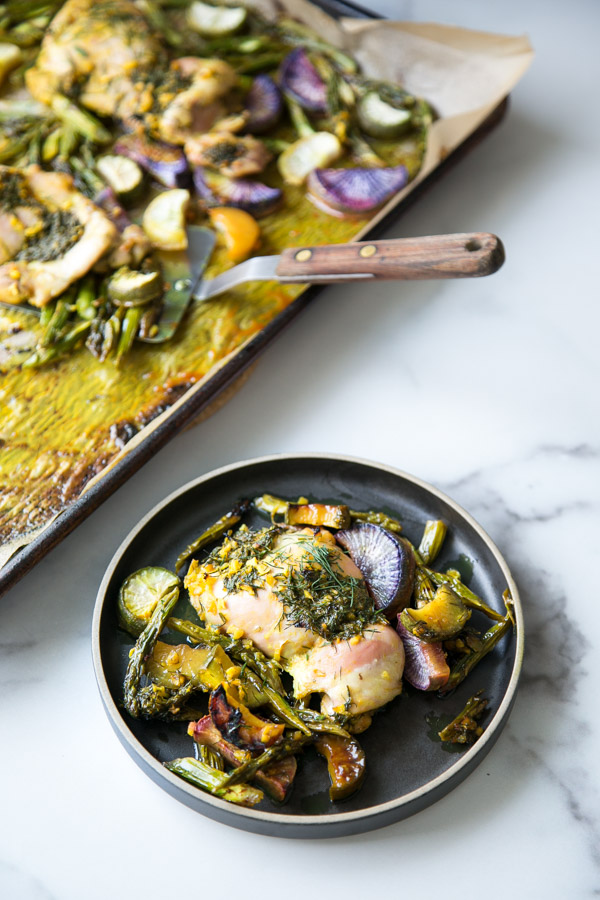 Ginger-Turmeric Chicken with Asparagus and Radishes
For Dinner
Prep Time 10 minutes Cook Time 25 minutes
Ingredients
1/4 cup roughly chopped fresh dill tightly packed

2 tablespoons minced fresh ginger

1/4 cup freshly squeezed lime juice from 2 limes

2 tablespoons fish sauce

2 tablespoons coconut oil melted

2 teaspoons maple syrup or clover honey

1 teaspoon ground turmeric

1 pound boneless skinless chicken thighs

1 bunch asparagus trimmed and sliced on the bias into 1-inch pieces

2 medium daikon radishes cut into wedges (watermelon, purple, or pink work too!)

1 tablespoon olive oil

½ teaspoon sea salt
Instructions
Preheat the oven to 425 degrees F. Line a baking sheet with parchment paper.

In a large mixing bowl, stir together the dill, ginger, lime juice, fish sauce, coconut oil, honey or maple syrup, and turmeric. Fold in the chicken and set aside to marinate for 10 minutes at room temperature.

On the lined baking sheet, toss the asparagus and radishes with olive oil and salt and arrange in an even layer. Arrange the chicken on top and pour any remaining marinade over the vegetables. Bake until the chicken is cooked through and the veggies are caramelized, about 25 minutes.
Turmeric latte
For Drinks
Prep Time: 5 mins Cook Time: 5 mins
Ingredients
350ml almond milk (or any milk of your choice)

¼ tsp ground turmeric

¼ tsp ground cinnamon

¼ tsp ground ginger

½ tsp vanilla extract

1 tsp maple syrup

grind of black pepper
Method
Put all the ingredients in a saucepan and whisk constantly over a gentle heat, ideally with a milk frother if you have one. Once hot, pour into mugs and sprinkle with a little more cinnamon to serve.